Skip to Content
Hygienic Food Pumps in Northern California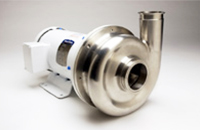 At Simonds Machinery in California, we offer a wide range of hygienic pumps for the food and beverage industry. All hygienic pumps meet FDA and 3-A sanitary standards. Features include:
Rotary lobe
Centrifugal
Cart- or skid-mounted to your specifications
We offer food-grade pumps for food, beverage, biotech, and pharmaceutical applications. When it comes to a food-grade pump, look no further for any other pump company. Simonds Machinery Co. based in based in California knows pumps inside and out, and we can provide the right pump for your application.