Skip to Content
Pump Retrofitting in Southern California
Pump Retrofitting in Southern California
Dealing with a pump system that continuously clogs, shuts down, or leaks can be bad for business and bad for you. Older systems constantly need work to stay running, costing you time and money that could have been better spent elsewhere. Plus, the constant drain of resources can be incredibly frustrating.
Simonds Machinery Co. in Southern California, takes that frustration and stress out of your life with our pump retrofitting services. Outdated pumps can break down, lack efficiency, and cost you money in repairs and lost time. Retrofitting allows you to update your pump without losing more time and causes your system to gain efficiency.
We're fully licensed, bonded, and insured, backed by a century of experience, and our drive to excel at what we do and provide you with an unparalleled experience is unmatched. We've been gaining knowledge, evolving, and honing our techniques since 1905. We have an incredible legacy of impeccable work and relieved customers. If you want to experience the benefits of a company that cares about you, we're the perfect fit.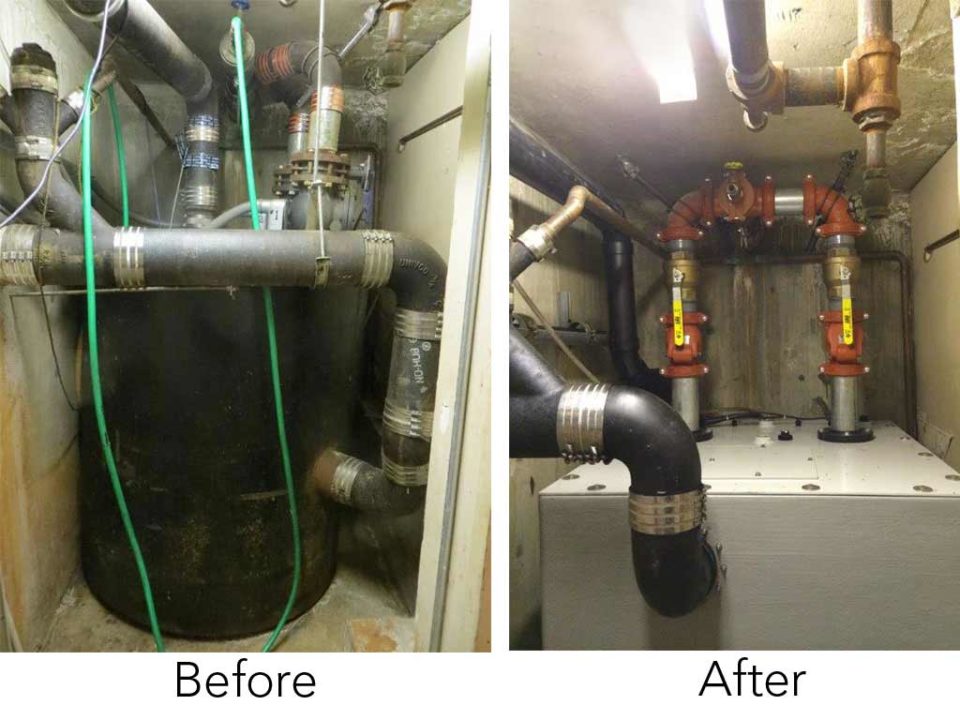 What is retrofitting?
Pump retrofitting allows us to upgrade your current pump system into something that works better for you and is more reliable. We work with your old system's acceptable components while bringing in more efficient, state-of-the-art products to enhance function, cost efficiency, and reliability. Our thoroughly vetted technicians are rich in experience with modernizing pump systems up to 40 years old and turning them into highly efficient, dependable systems that won't cause you nearly as many problems.
In a pump retrofitting project, our ultimate goal is to provide you with a finished system that is updated, dependable, and will last you for another 40 years. More often than not, we're able to complete a retrofitting project without you experiencing a loss of service—or if you do, for only a brief time period.
What are the benefits?
The benefits of pump retrofitting are many. Retrofitting will extend the expected life span for your current equipment, saving you the hassle of a full replacement for several more years. You'll also likely reduce your current operating costs, as the new equipment will be more efficient in functionality.
Fewer repairs will also put some money back in your pocket, especially if your old system constantly had something wrong with it. Also, with retrofitting, you'll be able to update your pump without experiencing the loss of service, costly bill, or lengthy amount of time that a full replacement would cost you.
If you're struggling to keep your current pump system running, please feel free to contact us and inquire about our retrofitting services. They're more affordable and timely than a full replacement, and they'll still save you money due to higher efficiency and fewer repairs.
Simonds Machinery Co. in Southern California offers a free evaluation to recommend whether it would be best to retrofit or replace your current system. There's also a before and after picture gallery from some of our favorite retrofit projects. Whatever state your current pumps are in, we're here to walk you through your options. We'll help you choose what's best for your business, your time, and your budget.