Why Ampco Pumps…
Ampco Pumps Company has been providing quality centrifugal pumps and positive displacement pumps to the sanitary, marine and industrial markets worldwide for nearly 70 years. Based on our commitment to deliver quality products, excellent customer service, and competitive pricing to our customers, we have become the preferred pump provider for some of the most recognized companies across the globe.
Ampco Pumps is proud to be an ISO 9001:2015 Registered Company. By redefining engineered excellence, Ampco offers the most complete line of pumps, blenders and mixers in the industry.
We invite you to visit our state-of-the-art facility in person and allow Ampco to show you how we engineer, innovate, and manufacture the best pumps, blenders, and mixers in the world!
Innovative and Proven Pump and Processing Solutions
Committed to Innovative Pump Manufacturing Since 1948 Ampco Applied Products, a division of Ampco Pumps is fully committed to highly engineered blending and mixing solutions for a host of applications. Common industries served by the AAP product lineup are: dairy, chemical, pharmaceutical, brewing and personal care.
Learn more about these great products used to efficiently and consistently blend liquids and powders. Powder mixers, shear blenders and powder induction systems can all be designed to meet your specific processing requirements. The ROLEC DH family of hop induction systems are powered by an SBI blender and are specifically designed to safely and efficiently dry hop fermenters in the brewing industry. Additional custom offerings include motor starters and VFD's. Let our experienced application engineers assist you in building the most efficient blending and mixing solution for your application today.
ZP3 SERIES – The New Standard in Positive Displacement Pumps
The patented ZP3 Series positive displacement pump is the best choice for sanitary food and beverage processing because only the ZP3 is fully CIP-able without modification, while maintaining full efficiency. The ZP3 Series is EHEDG and 3A Certified. Manufactured and assembled in the U.S.A.
Learn more about the additional benefits the ZP3 Series has to offer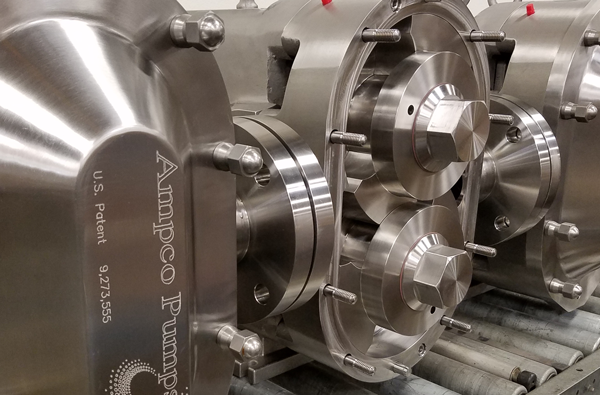 Need it tomorrow?
Ampco has the BEST inventory and lead times in the industry.